FRIDAY, JANUARY 6, 2012 we will hold a second round of casting for MORE "CoCo Girls!!" The audition will again be held at the Heron Bay Marriott in Coral Springs starting at 9am SHARP. Please come dressed in interview attire and change of clothes/shoes for dance portion.
Please spread the word and post about this additional round of "CoCo Girls" Casting coming up FRIDAY, Jan 6 in Coral Springs. The "CoCo Girls" will be ambassadors for the Seminole Casino Coconut Creek and will consist of a dance/show team (NFL/NBA style) and the CoCo Girls will also have the opportunity to work as Blackjack Dealers in the Casino in the "party pit" with a salary of $50k/yr. Casino will pay to have you trained/certified as a dealer. Must be 18+.
Any promo or appearances "CoCo Girls" do in addition to blackjack dealer will receive additional compensation, (i.e. practices, performances, etc…). We're looking at a minimum of 8 appearances/performances per month…
I will be the director and I am definitely looking for classy, well-rounded dancers, like you see in the NFL or NBA. There will be a short choreographed number to learn and perform for the panel, so please come prepared to dance too!
**This is a great opportunity for dancers who are looking for steady work and a flexible schedule!**
Any questions, please feel free to contact me, otherwise see you there next Friday, January 6, 2012!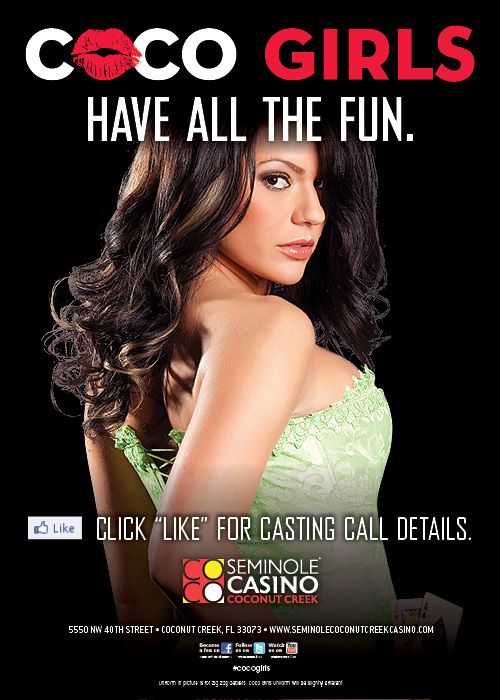 **AUDITION IS FRIDAY, JAN. 6, 2012, 9AM at the HERON BAY MARRIOTT IN CORAL SPRINGS!!**
Visit – http://www.facebook.com/seminolecasinocococreek and click on "CoCo Girls" tab on left for more details!